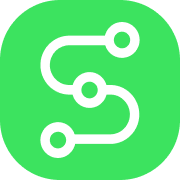 Swash
SWASH
Current market value:
$8.02M
Low:
$0.01958058
High:
$0.01994034
Global Volume(24H)
$213,979.48
Circulating Supply
405,955,104 SWASH
40.7165%
Max Supply
1,000,000,000 SWASH
Total Supply
997,028,828 SWASH

Key Point
SWASH Price Today
The live Swash price today is $0.01974614 with a 24-hour trading volume of $213,979.48. Swash is -0.48% in the last 24 hours.The current MyToken ranking is #--,with a live market cap of $8,016,051.37. It has a circulating supply of 405,955,104 SWASH and a max supply of 1,000,000,000 SWASH.
What Is Swash?
Swash is a tool, as well as an ecosystem, designed to restructure data ownership, enabling individuals, enterprises, and developers to consolidate data, Share data securely and monetize the value of data to unlock its potential value. For individuals, Swash allows them to regain ownership of their data and generate passive income while surfing the web. For businesses, the Swash platform enables them to scale up their access to high-quality zero-square data, saving time and money by eliminating intermediaries, AD fraud and AD bots. For developers and data scientists, the Swash SDK makes it easy to develop and deliver data solutions. In addition, they can deploy custom algorithms on the Swash platform and "feed" algorithms with the amount of data on the platform to accelerate innovation.
Swash protocol tokens can be used for participating in protocol governance, incentiviating ecosystem participants, trading data, and pledging liquidity for other purposes.
Swash Token holders can vote for projects they wish to receive funding from the Swash DAO Fund, decide on new roadmap development or modifications, and participate in token-related decisions.
Incentive: Participants in the Swash ecosystem can receive tokens in return for participation.
Transactions: Swash can be used for data transactions on all markets, platforms and applications. These include: Swash Business Intelligence Analysis Platform (sIntelligence), Data Computing Environment (sCompute), and various solutions developed using Swash technology (sApps).
SWASH Token holders can benefit from SWASH's collaboration with other products, enabling the conversion of data rewards between ecosystems; SWASH Token holders can also support humanitarian causes through the donation feature in the upcoming SWASH app.
< / p >
What are some of the most popular cryptocurrencies?
Search and recommend on-chain for you through MyToken, and we have sorted out the most popular cryptocurrencies on the market for you,Go to the Cryptocurrency Trending
Base data